Murals


Creating murals for interior designers, brands, and business owners is my passion. My process begins with developing insight into your brand values and audience, then collaborating on an exciting conceptual design that tells your story through my artwork. Collaborating with many teams across the creative industry for over a decade, I've gained unique experience to create exciting artwork that catches attention while also delivering the conceptual story of your brand. Some past clients include Google Artist in Residence, Modern Animal, New Belgium Brewery, and WeWork.

Whether you're local or across the country, let's collaborate on something big.


Google
Artist in Residence
---
Public Cafe Spaces
Google HQ
Menlo Park, CA
Art Consultancy: Gray Area
︎
Margaret Austin
The murals I created depict the many steps that contribute to a finished meal. By illustrating the journey of the ingredients that make up our meals we can celebrate the unspoken collaboration between the many people who play essential roles in connecting our kitchens and restaurants to the natural world.
Mural design and painting for Modern Animal, an upscale membership-based vet opening their largest Northern California location in San Francisco. The design direction included showing a human focused and community forward approach to pet care with nods to the unique neighborhoods of SF.
New Belgium Brewery
---
Restaurant & Brewery
San Francisco, CA
Interior Design:
Roy SF
Photography:
Taylor Humby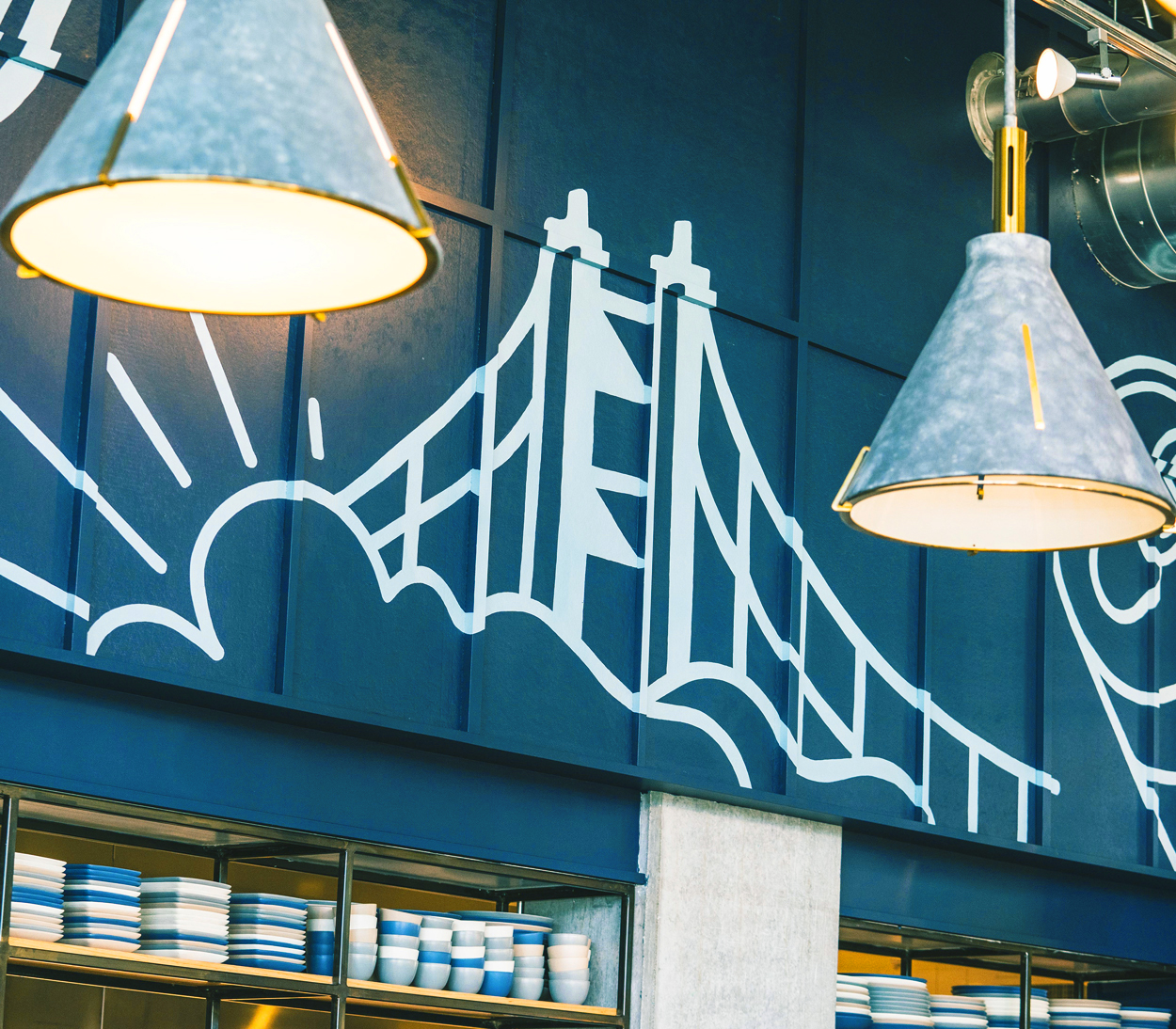 Joyride
---
Gourmet pizza restaurant
San Francisco, CA
Branding: Shawn Scott Studio

Public Art RFP
---
Request for Proposal for public art project through ABG Oakland


I participated in the first Public Art workshop series designed to track artists in the SF Bay Area to gain access to the pre-qualified list of artists for public art opportunities through the City of Oakland. My project proposal detailed a 12' x 20' powder coated steel design that speaks to the theme of home, barriers, growth and resilience in Oakland.
WeWork
---
Office Spaces in San Francisco, Las Vegas, Salt Lake City & LA
Art Manager: Joe Silver

As a Sr. Art and Graphics Designer at WeWork, I was able to make everything from abstract painting, to graphic murals, custom neon designs and original framed drawings for their uniquely design-forward shared workspaces. In addition to creating original artwork, I also sourced, curated and commissioned the entire scope of art for more than a dozen offices across the Western US.